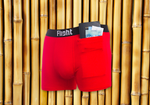 Bamboo – The Facts are True!
Bamboo is an organic fiber found mainly in Asia and Australia. It can grow in a variety of different climates and terrain. Bamboo is also the fastest growing plant on the planet, according to SoftSchools.com. As SoftSchools.com mentions in their article: "Bamboo releases 30% more oxygen into the atmosphere and absorbs more carbon dioxide compared to other plants. Because of these features, bamboo greatly decreases amount of greenhouse gases in the atmosphere and cleans the air."
Here are some other amazing facts about bamboo: 


ULTRAVIOLET PROTECTION
It offers UV Protection, so it is a great fabric for those holidays to tropical destinations! Click here to read more from this source.
MOISTURE WICKING
Because Bamboo is a porous material it allows moisture to wick away from the body, keeping you dry and comfortable. (Cited from here).
Bamboo fabric is known for being one of the softer fabrics on the market; often compared to cashmere.
GOOD FOR THE ENVIRONMENT
Bamboo grows quickly and does not require any pesticides for growth. It also, incredibly enough, is biodegradable.
Bamboo can produce an equal amount of cotton production in 10% of the space!
FAST
Bamboo is the fastest growing plant in the world, and can have many more yields from the same plot of land.
NON-IRRITATING FABRIC
The naturally smooth fabric of bamboo lies flat against the skin; reducing inflammation on sensitive skin.
Bamboo fibre has been praised as the "the natural, green and eco-friendly new-type textile material of the 21st century"!
So get with the times, get Bamboo!