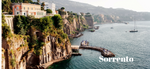 The Best Hiking Underwear I've ever owned!
Flight Underwear in Italy
I recently went on my honeymoon to the beautiful country of Italy. The country that borders the Mediterranean Sea is one of the most beautiful countries I've ever been to. With it's majestic farms, to its incredible wine region, to some of the best beaches in the world (on the Isle of Capri), nothing quite compares to Italy!
My wife and I flew into Rome, then went down to Pompeii, then to Naples (the birthplace of the pizza), Sorrento, Positano, the Amalfi Coast, and then finished the trip off in Venice. For the first week of the trip we were on a small group tour, called Intrepid Travel. We have nothing but great things to say about this program, and in particular the tour guide, who was simply amazing!
What follows below is my city by city summary of what we liked and what wasn't our favourite:
Rome:
Rome is the most historical city I've ever been to. You have the old Roman ruins right in the downtown core of the city. Everything from the Colosseum, to the ancient barracks and Caesar's Palace, etc.
It is however, also one of the busiest cities I've ever been to. Luckily, I did my research before and noticed that it is the pickpocket capital of the world. I made sure to wear my Flight underwear everyday that I was in Rome; and I carried both of our passports and our Euro's in the handy pocket in the underwear the entire trip (just to be safe).
Pompeii:
Pompeii is actually a fantastic little inland town. It is the home to the Ruins of Pompeii, which are much better than advertised. I would highly recommend you do this tour as it gives you an incredible idea of how the wealthy ancient Romans used to live; and it's pretty lavish, even by today's standards! One of the other cool things about Pompeii is that you can go up the volcano that caused the ruins of Pompeii when it erupted back in 92 AD. The volcano is called Mount Vesuvius or Vesuvio in Italian. This was our first "hike" of the trip. I made sure that both my wife and I were equipped with our Flight Underwear, which is actually perfect hiking underwear. It's bamboo fabric is breathable, allows for moisture and sweat wicking, and is super comfortable so it never chafes or rides up your legs. Again, we made sure to take our identification and our money and stored them safely in the inner pocket. If you were to ask me "what is the best hiking underwear for men" I think it would hard to refer anything but Flight Underwear for this.
Mt. Vesuvius was incredible. You walk up the volcano on a pile of ash. At the top you're actually in the inner crater of the volcano. You can see smoldering, smoking rocks at all times while you look into the depths of it. However, one thing to be cautious of is that they allow cars to drive up and down the same path that people walk on. You are constantly having to move to one side of the road to allow for car traffic to come up this small walking path. I guess that is just Italian life though!
Naples:
Naples is the home of the pizza. Everyone knows and loves pizza, but eating pizza in Naples is other-worldly. We were privileged enough to eat at the top ranked pizza shop in Naples (and thus maybe the world?) called Antica de Michelle's. Let me tell you about this pizza. The dough is chewy (but not in a "undercooked" disgusting sort of way), it is perfectly cooked and not burnt at all. It really only goes into the woodfire oven for about 1 minute. The oven is manned by about 3 Italian men.
The pizza parlour itself is very small and holds only about 40-50 people but is busy from open until close. It was featured in the book and movie starring Julia Roberts called "Eat, Pray, Love". There are only two pizza options, Margherita, or Marinara. The marinara only has sauce and spices, with no cheese...I thought this would be not very appealing. However, I was very wrong. It was incredible just like the Margherita pizza.
I didn't spend much more time in Naples, except in the train station where we took that down to the Amalfi Coastline.
Sorrento:
Sorrento (photo pictured above from SorrentoInsider.com), is one of those towns that you see all the pictures of when you Google "Italy". It is one of the towns that is high up on the hills overlooking the Mediterranean Sea. It is an absolutely breathtaking town, and likely my wife and my favourite spot on our tour. One thing to note, it is very touristy. Lots of shops, restaurants, and beaches. We however, love all those things and especially enjoy the convenience of being able to walk to any shop, restaurant or beach that we want on that particular day! The touristy towns of Sorrento and Positano may not be for those of you that are looking to go on an "adventure travel" vacation, or to go hiking. However, if you love beach towns these are about as great as they come.
Positano:
Positano is significantly more touristy (and thus much more expensive) than Sorrento. The beaches are incredible here as well, but there is not as much of a "friendly" aura in Positano as there is in Sorrento. It is more about taking advantage of the rich tourists. Of the two, Sorrento is hands down your best bet to see. One thing to note about both places, all the way down to Amalfi is that the main road near the ocean has horrendous traffic issues. It is a small road, equivalent to about one lane and a parking lane in North American Standards, but they have cars parked on both sides and two tour busses going opposite directions squeezing through this treacherous path of road. Somehow they make it work. One of those things that you have to be a local to understand I suppose.
Amalfi:
Amalfi is a great place to visit. It is a much more quaint town, and less touristy than both Sorrento and Positano. It boasts some great beaches, and a more "local" feel to it, as opposed to one with tourists.
Here in Amalfi, we embarked on a very large hike (12 kilometres) on a hike called "The Walk of The Gods". Once again, my wife and I were sure to wear our Flight Underwear, the best hiking underwear for men or women that exists in today's saturated underwear market. This walk is treacherous in a few spots, but is generally a fairly easy trek until the last 2 kilometres. The hiking underwear was excellent at repelling the sweat I incurred during this trek, and in for the last two kilometres it is all stairs. So if you're going the one direction you go down about 2000 steps, and if you go the other way you go up about 2000 steps. This was very painful and slow. Everyone takes breaks and spends the most time on the trek navigating these steps. I was able to keep my phone and room keys secured in Flight's travel pocket. There was no other underwear for hiking I would consider wearing.
Thank you Flight Underwear for being a vital part of my trip!