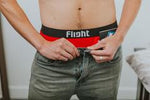 If You Can't Keep It In Your Pants... Keep It In Your Underwear
Ever wished for a streamlined solution to carrying your essentials while out for a run?
Ever panicked when something valuable got lost or stolen thanks to small pants pockets that can't be closed?
Ever wanted the security of underwear with a pocket when you travel, to store your passport, identification, or money securely?
Welcome to the evolution of underwear! Say hello to Flight: the first underwear with a zippered pocket, and to be comprised of an eco-friendly material (95% bamboo).
Flight Underwear is made to be not only extremely comfortable, but very practical. The guaranteed security that comes with Flight's large zippered pocket (it's big enough to easily fit a passport, phone, and anything else you need to keep safe) is unparalleled.
More than functional apparel, more than environmentally friendly, Flight Underwear is also a lifestyle. Flight is for the runner, the traveler, the businessman who requires more than just comfort in his clothing. Flight is a revised and improved version of a typical money belt. Flight combines form, fit, and function all below the belt.