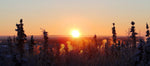 T.R. Diamond - Heads Due North...and South.
Day 811
Inuvik, Canada
A tent
16:00
Between traveling the world and spotting Anne Murray in a Pizza Hut one time, I have led a very interesting life. People have often told me I should write a book, and I've finally decided to get around to it. I know that in order to really put effort into this, I need a hospitable environment with no distractions, which has brought me to Inuvik this summer. I have paid for a three months' stay in one of Inuvik's scenic parks, and starting today it's just me, a pad of paper, a pen, and the contents of my Flight Underwear. Time to get writing…
18:14
The dedication to one's book can be exceedingly difficult. To Mom & Dad? To Mom, Dad, My Brothers, and Sisters? To My Family? To A. Murray? Time for dinner, then maybe a little more writing, and then bed.
21:08
It's beautiful this far north. After a simple dinner of nuts, berries, and a loose Tuscan chicken wrap I found in the rental tent, I have decided I will sleep now, ready to awake refreshed and really get going on the writing first thing tomorrow.
22:31
Summer nights are longer than I remember. The sun as filtered through the rental test casts a neon orange glow over everything. But that's all right. All of this light means I can write more. I think, to warm up, I will draw my specialty, which is sharks.
00:12
I've drawn a hundred cool sharks. The sun is obviously broken here because it is as bright out now as it was in the daytime. Is it the apocalypse? If it is, I shouldn't spend in a tent. I promised myself a moratorium on technology, but I really should check my phone that's nestled in my Flights. Send an email to my loved ones, cancel my Blue Apron account, etc.
02:24
So apparently Inuvik is bathed in daylight 24/7 for about two months. A quick Google search confirmed it. I really should be more of a planner. Being surrounded by this hideous orange glow must be what it's like inside the White House (#topical), but it's not for me. I'm packing up and heading south. Far south. South Pole. Then I'll really get to work.
Day 814
South Pole
I'm not going to write a book, I've decided.